Coincover at TOKEN2049

Coincover
21/09/2022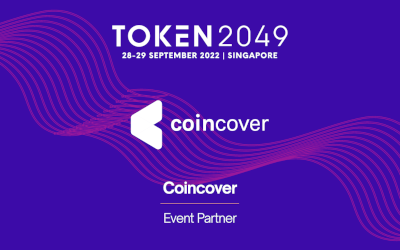 Coincover is excited to be sponsoring TOKEN2049 - the flagship event of Asia Crypto Week running from 26th September to 2nd October. With over 3,000 attendees and 250 exhibitors, this will be Asia's premier digital asset event.
The world's leading voices in the space will be taking to the stage to discuss some of the most currently debated topics. Coincover will be giving a keynote speech on Wednesday 28th September @ 10:15am on how digital asset protection has the potential to lower the barrier to mass adoption. Whilst other keynotes and panels are scheduled to cover a wide range of topics, including the advent of the metaverse and Web3, corporate investment trends and what these developments will ultimately entail for the sector as public awareness grows.
If you are in Singapore for the event, come and see us at stand P60!
‍Event: TOKEN2049
Dates: 28th - 29th September
Location: 10 Bayfront Avenue, Marina 018956, Singapore,
Stand: P60
Website: https://www.asia.token2049.com/