Coincover Bolsters Leadership with new CFO and Head of Legal

Coincover
8/11/2023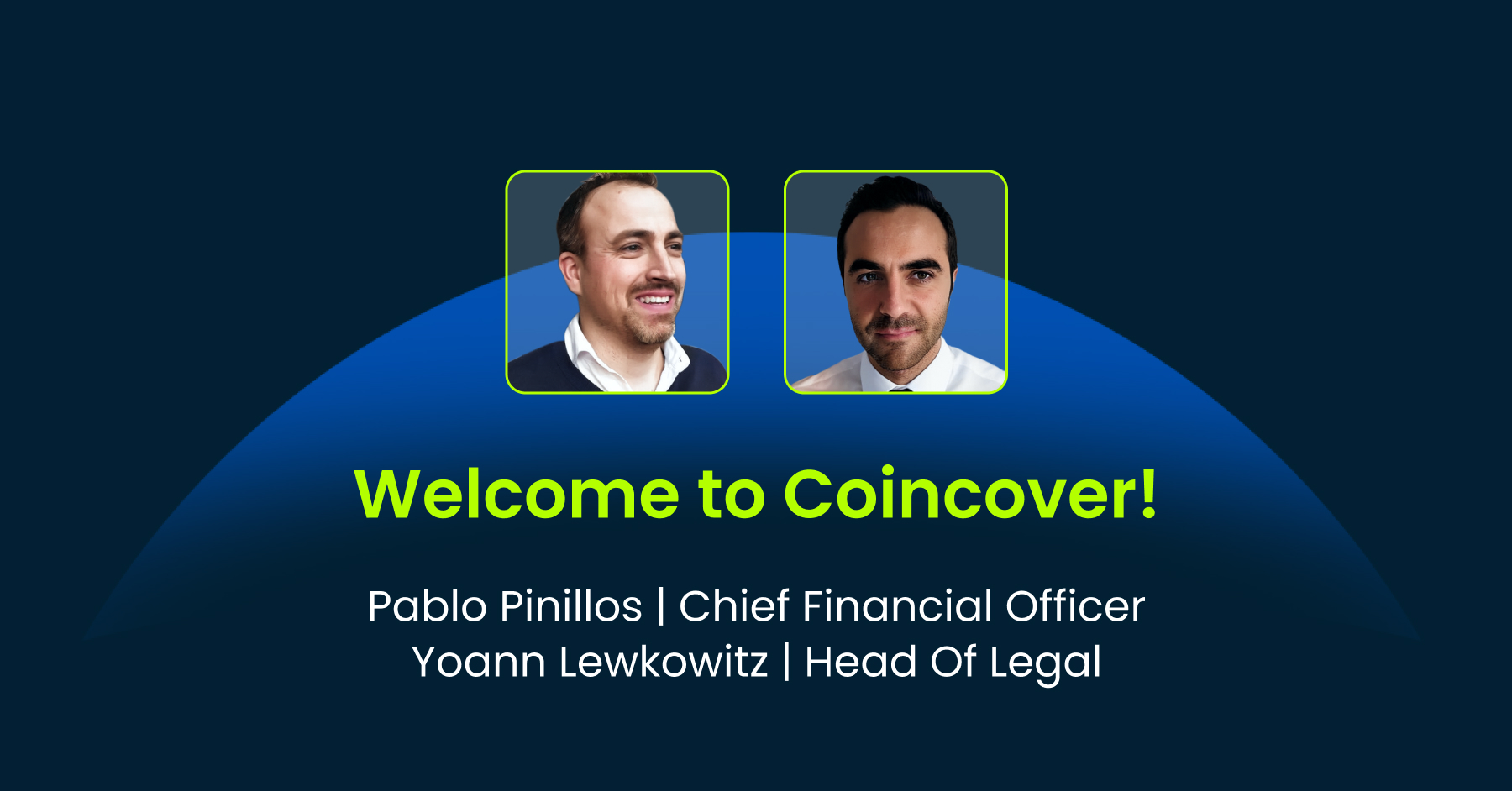 Coincover, the pioneering blockchain protection company, is further reinforcing its leadership team with two strategic appointments. This announcement comes shortly after the appointment of Coincover's new Chief Commercial Officer, Ridhima Durham.
Pablo Pinillos, formerly the CFO at Bitrise, joins Coincover as CFO, while Yoann Lewkowitz, who has held key positions at Symmetry Investments, Credit Suisse, and LendInvest, takes the reins as Head of Legal. These appointments will strengthen Coincover's legal and finance departments as it continues to grow.
Pablo Pinillos, Chief Financial Officer:
Pablo brings a wealth of experience across finance, strategy, and operations to his role as Chief Financial Officer. He previously served as the CFO at Bitrise, a position he held for over two and a half years, before 14 years in several global leadership roles at Qlik.
His track record of optimising financial performance, honed through years of leadership in both emerging and established companies, will be instrumental in steering Coincover's financial strategy as the company expands. As CFO, he will oversee the company's finances and will be a key decision maker on financial strategy, including budgeting and funding.
"My experience in the tech industry has shown the importance of providing strategic insights and generating value across the organisation through data-driven financial leadership. I've fostered a culture of continuous improvement, adaptability, and collaboration with strong strategic partnerships across the whole organisation to fuel growth. This entails the allocation of precise financial and operational resources to bolster our long-term strategies. I am excited to contribute to Coincover's mission of protecting blockchain assets and, in doing so, fortifying the company's financial foundation for enduring success."
Pablo Pinillos, Chief Financial OfficerJob, Coincover
Yoann Lewkowitz, Head of Legal:
Yoann trained and qualified at Allen & Overy and after a few years moved in-house, holding significant positions at Symmetry Investments, Credit Suisse, and LendInvest, he now takes on the role of Head of Legal at Coincover. Yoann has been working on various blockchain projects since his time in private practice. His Magic Circle training and varied experience has provided him with extensive knowledge of corporate and financial services regulation laws and a proven ability to navigate complex legal challenges.
At Coincover, Yoann will be responsible for overseeing all legal matters, ensuring the company's compliance with regulations, and advising on corporate matters. His experience in providing strategic legal counsel is invaluable in safeguarding Coincover's interests as the company continues to expand and innovate in the blockchain protection sector.
"I am privileged to join Coincover and support the company's dedication to legal excellence in the blockchain protection industry. I am excited to see how the digital assets regulatory landscape will evolve and contribute to making Coincover a leader in the industry."
Yoann Lewkowitz, Head of Legal, Coincover
"Coincover is thrilled to welcome Pablo and Yoann. Their extensive expertise and track records are precisely what we need at this critical juncture. We're excited to have them on board and are confident that their contributions will make a significant positive impact on our business, ensuring that we continue to protect our customers' assets and drive innovation in this ever-evolving industry."
Vikki Sly, Chief People Officer, Coincover