Coincover's regulatory roundup - April 23

Coincover
9/05/2023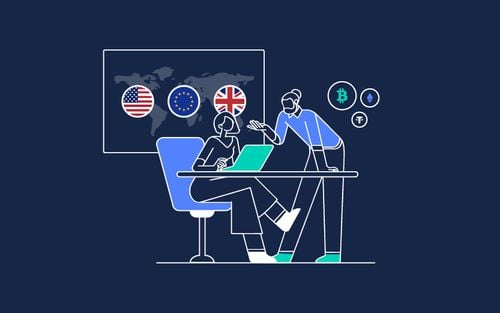 April was another busy month for legal news and regulation in the crypto ecosystem, with the approval of MiCA going through and Coinbase fighting back against the US Securities and Exchange Commission (SEC).


USA
The National Futures Association, a self-regulatory authority in the USA linked to the Commodity Futures Trading Commission, has announced a new rule, Rule 2-51, effective May 31, 2023. The rule outlines requirements for members and associates engaging in activities involving digital asset commodities, only Bitcoin and Ether at this stage. The rule prohibits fraudulent and manipulative practices, requires adherence to just and equitable trade principles, and mandates disclosure and supervision. In addition, members must comply with NFA Interpretive Notice 9073 and diligently supervise their employees and agents.  
The US Congress has published a draft bill outlining the regulation of stablecoins, with non-bank issuers to be overseen by the Federal Reserve. Insured depository institutions would fall under federal banking agency supervision. Fines of up to $1m and five years in prison could be imposed on those that fail to register as a stablecoin issuer. The legislation includes a two-year ban on issuing non-tangible asset-backed stablecoins, as well as a requirement for issuers to maintain reserves backed by US dollars or Federal Reserve notes, among other conditions.
Coinbase is supporting plaintiffs in a claim that the Office of Foreign Assets Control exceeded its powers and violated the right to freedom of speech set out in the U.S. Constitution when it banned Tornado Cash. Tornado Cash is a decentralised non-custodial smart contract mixer that helps enable private transactions. The plaintiffs said the lawsuit is part of a broader attempt to restore internet privacy rights of US citizens.
The SEC has sued cryptocurrency exchange Bittrex and its former CEO William Shihara over offering unregistered securities, including DASH, OMG, and ALGO tokens. The complaint alleges that Bittrex has been operating illegally by offering securities to users since 2014 without proper registration, making it an unregistered securities exchange, broker, and clearing agency. The charges also apply to Bittrex's foreign affiliate, Bittrex Global GmbH.
Coinbase has filed a petition in federal court to push the SEC to provide overdue guidance for the crypto industry. Coinbase had filed a rulemaking petition in July 2022, but the SEC has not responded yet. The action filed by Coinbase asks the court to require the SEC to share its decision, as they think SEC has already decided to deny the petition. Regulatory clarity is overdue for the crypto industry, and crypto companies face potential regulatory enforcement actions from the SEC.


Singapore
Singapore has been working with banks to build a risk management and due diligence framework that banks can use when opening accounts for digital asset service providers. Guidelines will also be put in place around the screening of crypto clients.


Hong Kong
China Pacific Insurance, a Chinese state insurance firm, has launched two crypto funds in Hong Kong. While the funds don't have the backing of the Chinese government, the move could indicate that China supports Hong Kong's liberalisation of crypto regulation.
And according to reports, Chinese state-affiliated banks are offering accounts to crypto organisations wanting to establish their businesses in Hong Kong. Crypto service providers are applying for licences to trade in Hong Kong as the region gears up for the Virtual Asset regulations coming into effect in June this year.


UK
The UK's economic secretary, Andrew Griffith, said the UK could roll out its crypto regulation within a year as the Government aim for the UK to be a global hub for crypto. Dr Lisa Cameron, the Crypto and Digital Assets All Party Parliamentary Group chair, also spoke about establishing a regulatory framework that provides consumer protection and supports the UK becoming a global crypto hub.


Europe
The European regulatory framework, MiCA, was approved on 20th April, meaning uniform EU rules for crypto will soon be in place. Our Business Unit Director, Katharine Wooller, commented,
"The MiCA regulation provides much-needed clarity, ending the era of "patchwork" rules across the region. As the first region to bring a coherent and comprehensive framework, this should be praised, and I would expect crypto firms in the less welcoming regulatory climes, particularly the US, to migrate to the area."
Katharine Wooller, Business Unit Director
Ukraine announced it would also adopt the MiCA regulations, extending its protection to Ukrainian investors.  


South Korea
South Korea is edging closer to approving cryptocurrency legislation, with the National Assembly passing the first phase of a new bill in April. The cryptocurrency bill will require the segregation of funds, insurance against hacks and system failure, and hefty penalties for those who cause consumer losses.


The Bahamas
The Bahamas is also looking to improve its crypto regulation following the collapse of FTX, whose headquarters were in the country. The regulations will focus on proof-of-work mining and staking, and stablecoins. They also focus on crypto asset providers having controls in place against unauthorised transactions and ensuring customers can access their funds should their service provider be unavailable.
Savvy digital asset businesses are getting ahead of the game regarding regulation using readily available technologies and products. For example, Transaction Protection helps protect companies and their customers from malicious theft and scams by proactively screening and protecting transactions.​ Private key backup services like our disaster recovery solution securely provide encrypted, military-grade storage for key retrieval if asset access is lost. Contact us today if you'd like to learn more about how our products can help you meet regulatory requirements.