Crypto's path to mainstream: Recommendations for a secure future

Coincover
26/09/2023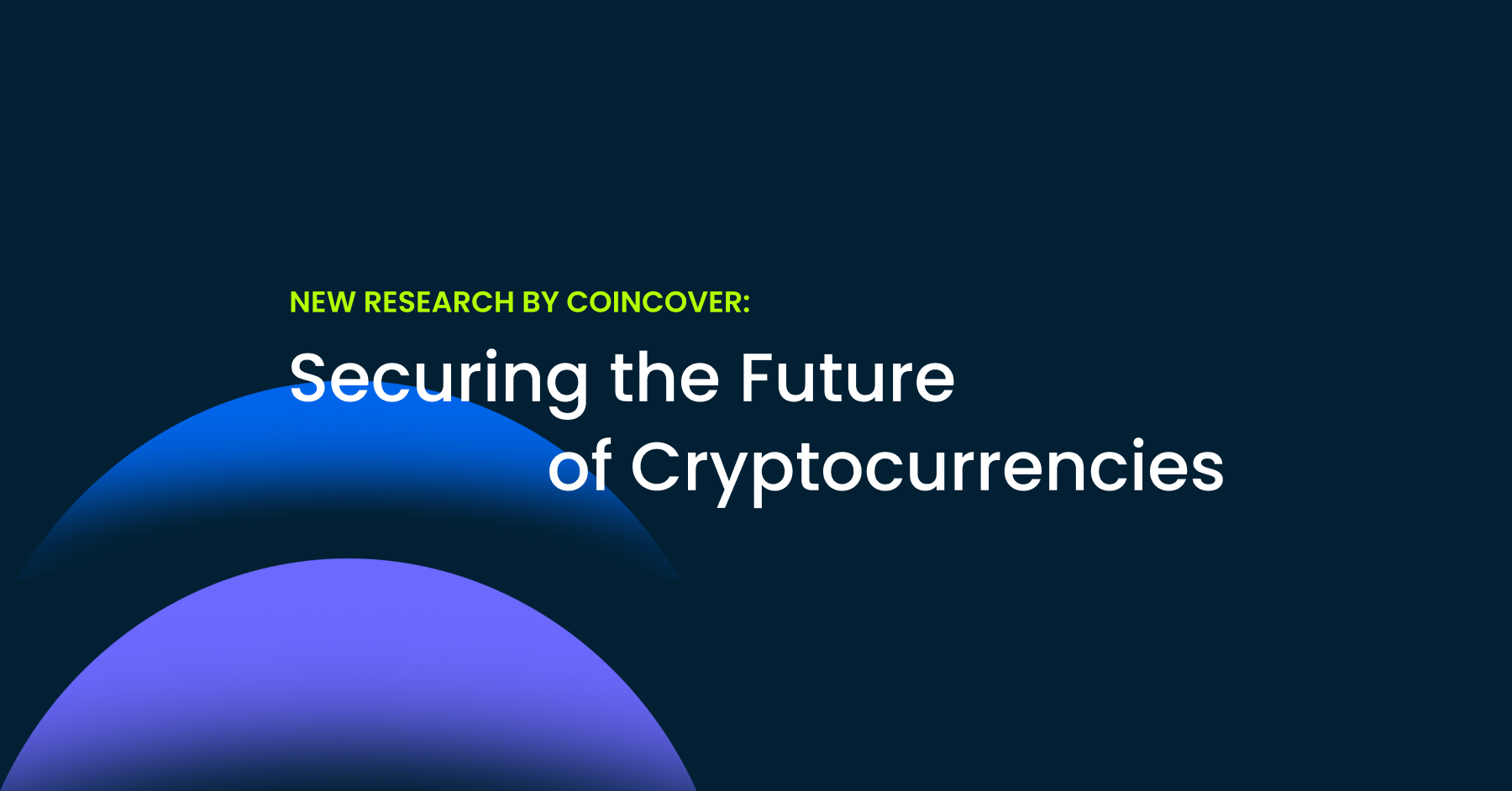 In an exciting step towards
understanding the latest trends in the dynamic world of cryptocurrencies, we are proud to present our latest industry report, Securing The Future Of Cryptocurrencies. This comprehensive study delves into the perspectives of 16,000+ consumers across nine countries, painting a well-rounded picture of the crypto industry's current state and offers valuable insights from both crypto enthusiasts and non-crypto consumers alike.
How could this report help secure the future of crypto?
Commissioned by Coincover, the report provides insight into the crypto landscape that would be beneficial to both Coincover, blockchain business and users. Coincover's core mission is to protect everyone who is using and benefitting from blockchain technology, ranging from investors to innovators. By delving into customer perspectives, the industry gains a clearer understanding of the barriers to the mass adoption of cryptocurrencies. This understanding forms the bedrock for encouraging innovation that can overcome these barriers to help secure the future of cryptocurrencies.
In this ever-changing landscape, reports serve as a guiding light, offering an analytical view to shed light on the present state of the market. Other reports within the crypto sphere help us gain a well-rounded picture of the reality of our findings. It's important to note that our findings remain consistent with other reputable research. The Chainanalysis 2023 Crypto Crime Report highlights the emerging illicit trends and activities, recognising a second consecutive year of increased criminal activities in the crypto sphere. Our report provides colour to the effects of this crime on the perceptions of consumers, finding that a third (33%) of consumers are worried about investing due to hacking and security risks. The findings also suggest that volatility and security risk are the two most significant barriers to mass crypto adoption.
These findings empower Coincover to understand what obstacles the industry needs to overcome and how we can help facilitate innovation for the future of crypto.
The Research Process
The research questions were formulated by an external research agency drawing insights from interviews with David Janczewski, CEO and co-founder at Coincover, and Morgan William, Product Lead at Coincover. Leveraging William's extensive background in consumer-focused roles, the analysis gains valuable insight into understanding the consumer sentiments toward crypto adoption.
The report, surveying an impressive 16,316 participants, provides a monumental presence within the crypto landscape, second in size only to Bitstamp's Crypto Pulse report. The research provides a nationally representative sample, surveying consumers across nine international markets, including Australia, Canada, France, Germany, Japan, Singapore, UAE, USA and UK.
The findings were then discussed with a range of experts,
Ian Taylor, Head of Crypto and Digital Assets at KPMG and Board Advisor at CryptoUK 

Adam Jackson, Director of Policy at Innovate Finance 

Steve Flatt, Psychologist at the University of Liverpool 

David Janczewski, CEO and co-founder at Coincover 

Charles Guillemet, Chief Technology Officer at Ledger

Morgan Williams, Product Lead at Coincover 
The report then provides an extensive literature review to help provide a well-rounded view of the industry and traditional finance.
What are the key findings?
The Good News
The survey data reveals that individuals are generally satisfied with their financial returns from crypto investments. Notably, two-thirds of respondents indicate positive returns on their crypto investments. Moreover, the findings uncover confidence among consumers that the crypto market can overcome its challenges and mature into being an accepted part of the financial system.
With this positive outlook, it's clear that there is a vast potential for growth in the crypto landscape. Ownership is on the rise with 30% of respondents saying they're likely to invest in cryptocurrencies in the next 12 months, with Bitcoin being the most popular choice (46%). In addition, more than half (55%) of respondents are at least crypto-curious. However, this does pose the question of what barriers are there to those who are still unsure about adopting cryptocurrencies.
Factors holding back mass adoption
While the survey sheds light on the positive perceptions of cryptocurrencies, there are factors still holding back widespread adoption. Although volatility is not unique to crypto, it was identified as the biggest barrier to investing and increasing investments. Second to this, concerns over hacking and security risks coupled with a lack of trust and confidence in the crypto ecosystem.
The way forward
The survey data does show that there are ways to address these concerns by focusing on creating industry standards for protection that will increase consumer confidence.
Download the full report to understand more about how the industry can adapt to secure the future of mass adoption for cryptocurrencies.