Introducing Onramp: A Bitcoin Asset Management Platform Built On Multi-Institution Custody

Onramp
20/10/2023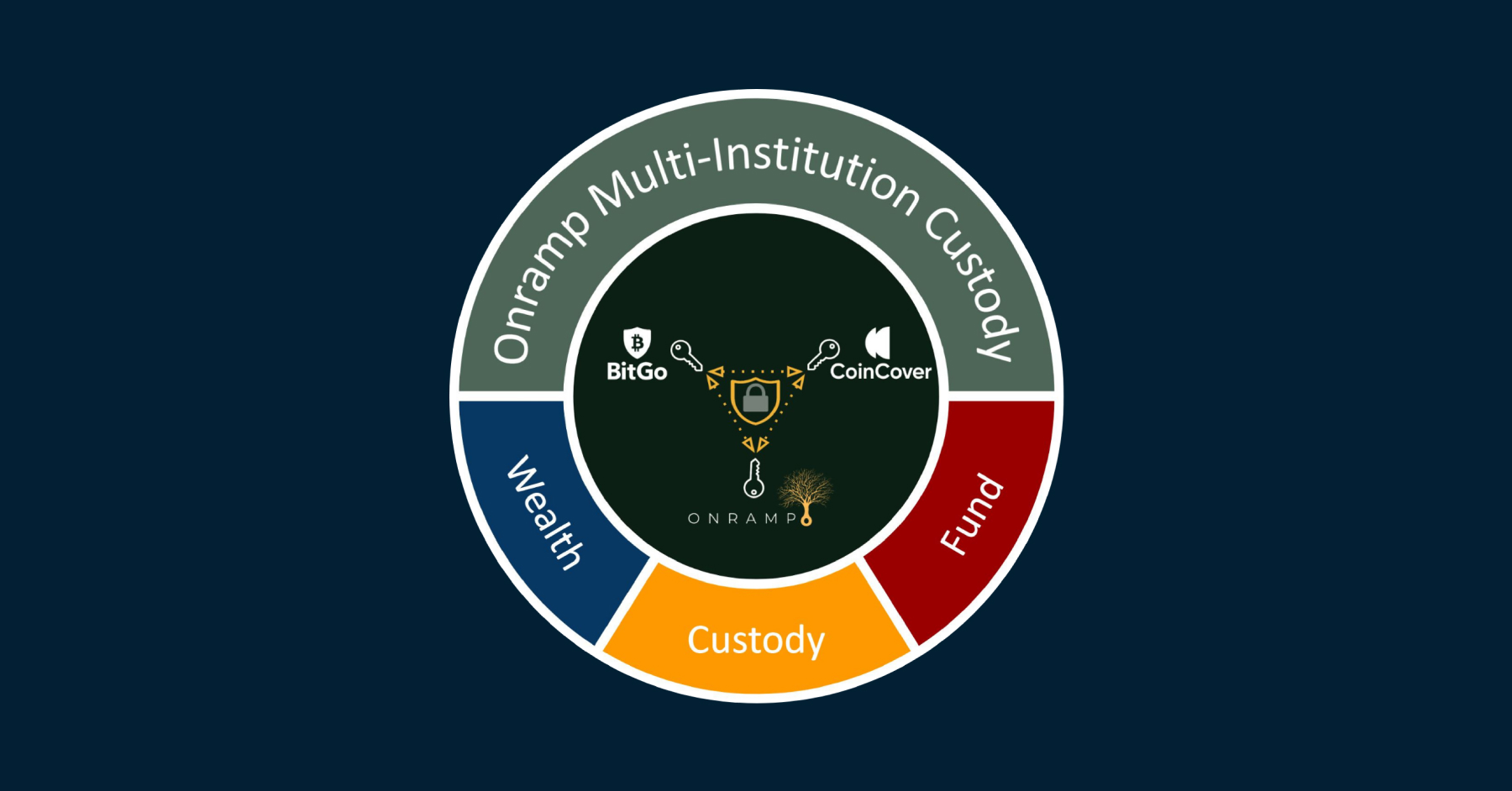 Original source here
Why Custody Matters
The first fifteen years of bitcoin's existence have been fraught with custodial mishaps, from misplaced private keys to exchange hacks, and an array of failures in between. A first-of-its-kind, digital bearer instrument, secured via cryptographic material, bitcoin simply does not map neatly to the traditional financial world with respect to its inherent custodial properties.
While self-custody remains a worthwhile option for many individuals, the reality of the situation is multifold: (1) most institutions and HNWIs are not organizationally prepared and/or willing to take on the personal responsibility of securing cryptographic information (i.e., private keys), (2) the concept of custody through intermediaries dates back thousands of years and the modern financial system relies on third-party custodians to secure its assets and offer financial services, and (3) there are inherent limitations to the bitcoin protocol that would make it difficult for every person on earth to individually secure the asset in self-custody.
For these reasons, there must exist some level of custodianship for the bitcoin ecosystem in order for it to scale to the masses. Particularly in the institutional realm, trusted intermediaries are a necessary component of bitcoin's broader adoption as a financial asset. As mentioned, however, bitcoin is a unique asset in that if a custodial arrangement is compromised, the bitcoin can be lost forever. Moreover, if you are outsourcing custody to a single entity, there are minimal assurances that the bitcoin won't be rehypothecated or bailed into a bankruptcy if the entity becomes insolvent.
Therefore, trusting a single entity as a custodial counterparty, an industry norm in the traditional financial world, comes with tremendous risk. The status quo of obtaining bitcoin exposure with a single point of failure (i.e., a single custodian) not only infringes upon the underlying value proposition of bitcoin as a uniquely trust-minimized asset but has justifiably prevented large pools of capital from entering the space. It's worth considering that unlike most traditional asset classes, bitcoin's risk profile includes the material possibility that an allocation could go to zero, not due to an incorrect investment thesis but simply the failures of a singularly trusted counterparty.
Why Multi-Institution Custody is the Future
At Onramp, we believe there is a better path forward, one that can unlock the trillions in institutional capital still sitting on the sidelines. By leveraging the native properties of the bitcoin protocol, which allow you to distribute access and control over a bitcoin address across multiple participants (i.e., multi- signature), we can reduce the counterparty risk associated with third-party custody by an order of magnitude. While multisig custody is already prevalent in the market today, these arrangements are still subject to a single point of failure if a single entity is in charge of managing all the keys to a multisig vault, as is typically the case.
What if, instead, the private keys are distributed not within different departments of a single entity but across entirely distinct financial service entities? What if we could secure bitcoin via a multisig vault managed by multiple institutional key holders, each with their own security processes and procedures, none of which have unilateral control over the asset?
This arrangement would eliminate any single point of failure, distribute counterparty risk, and minimize required trust, all while providing far greater assurances that a client's bitcoin is secure and auditable on- chain. This form of "multi-institution multisig custody" represents the foundation of the bitcoin asset management platform Onramp is building – and our vision for how the masses can securely gain exposure to bitcoin.
Bitcoin custody models have significant tradeoffs; Onramp improves on existing options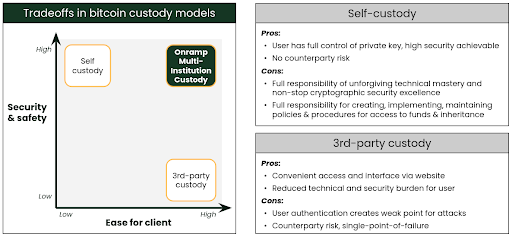 Why Onramp
Back in April of this year, Onramp brought to market the first ever security-like vehicle for bitcoin exposure leveraging multi-institution custody. The Onramp Bitcoin Trust – a grantor trust governed by the Wyoming Statutory Trust Act – provides clients with 1-1 exposure to spot bitcoin that is held in a 2- of-3 multisig vault with private keys distributed across three separate institutions – Onramp, Kingdom Trust, and BitGo. Importantly, the trust structure allows for in-specie redemptions without a taxable event, a step-function improvement upon existing bitcoin trust structures on the market today, as well as proposed ETF structures.
Given the demand we observed over the summer for various bitcoin-exposure vehicles leveraging the multi-institution custody model, Onramp is relaunching to realize our full vision – a comprehensive global bitcoin asset management platform purpose-built for institutions and HNWIs, all built on the foundation of multi-institution custody. In pursuit of our overarching goal to provide clients with a differentiated form of bitcoin custody that maximizes security while minimizing counterparty risk, we're expanding our platform beyond the Onramp Bitcoin Trust, in partnership with BitGo, to bring a multi-institution custody solution requiring multiple financial services entities to independently onboard and verify a client's unique controls when processing withdrawal requests. BitGo, having pioneered the first implementation of a multi-signature wallet and being the industry leader in bitcoin infrastructure for the past 10 years, was a natural partner for us to bring this custodial offering to market. We are equally excited to add Coincover, in addition to Kingdom Trust, to our institutional key partner quorums for Onramp's growing global client base.
Moreover, we're launching Onramp Wealth, a seamlessly integrated turnkey asset management program (TAMP) purpose-built for RIAs looking for a solution that offers qualified custody, insurance, research, education, and advisory services, with a bitcoin-only focus. This solution is tailor-made for RIAs to oversee their clients' bitcoin, while owning and maintaining their clients' relationships.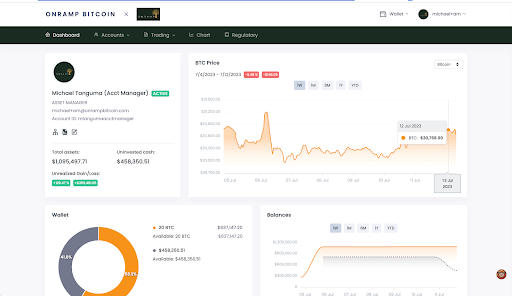 Finally, we've brought on Cam Stromme, former Senior VP of Client Solutions at Unchained, to lead Onramp Private Wealth, a first-class private client service aimed at addressing the complex, multi- dimensional challenges of managing significant wealth within the bitcoin ecosystem. Onramp Private Wealth clients will have access to the entire executive suite at Onramp, along with best-in-class, discreet, white-glove services.
Together, the Onramp platform provides institutions and HNWIs with access to multi-institution custody in a variety of customizable formats that suit their specific needs.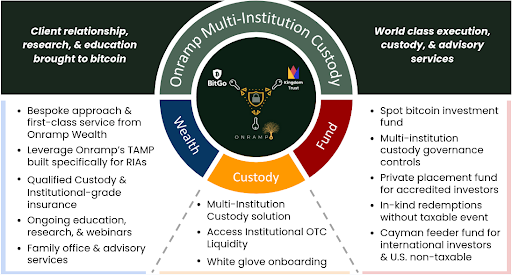 The Onramp Advantage
Experience: The Onramp team has diverse experience across the investment management, private wealth, venture capital, technology and management consulting industries at reputable firms such as Bain & Co, Brown Brothers Harriman, Stifel, Google, and Unchained. Since our initial launch, we've bolstered our executive team with individuals who understand both the worlds of bitcoin and traditional finance and are well equipped to deliver differentiated products and services designed to suit the needs of our investor base. Additionally, we are excited to share that David Thayer, executive advisor at Blackstone, has joined Onramp's strategic advisory board.
Expertise: Drawing from extensive experience serving HNWIs, Family Offices, and Institutions, Onramp understands that the technical requirements of self-custody deter many investors. Through the experience gained from onboarding thousands of clients to bitcoin and billions of dollars to multisig bitcoin custody, we believe we've built the ideal custody solution to onboard the masses, combining the strengths of bitcoin's native properties with the advantages of traditional institutional-grade custody.
Bitcoin Education & Advisory: At Onramp, we pride ourselves on being more than just an asset management firm; we're educators at our core. We recognize that investors are all at different stages of their bitcoin journeys, and their ability to make successful long-term investment decisions is a function of strengthening their knowledge of this unique asset. That is why we've positioned research and education as the bedrock of our business strategy, aiming to provide investors with a comprehensive set of high- quality bitcoin resources, including written research (Onramp Insights, Dylan LeClair's Weekly Roundups, Jesse Myers' Once-in-a-Species), rich video content (The Last Trade podcast), and analytic tools (Onramp Terminal). We're also excited to announce the upcoming launch of an interactive webinar series that will highlight fundamental tenets of the bitcoin thesis.
Why Now
Given the current global economic backdrop of soaring debt levels, excessive deficit spending, emergent inflationary pressures, and financial uncertainty, the foundation principles of bitcoin appear strikingly relevant. The Overton Window is beginning to shift with respect to individuals' understanding of monetary debasement and the erosion of purchasing power. At Onramp, we believe bitcoin is an idea whose time has come.
As investors continue to navigate the tumultuous seas of wealth preservation, bitcoin stands alone as a compelling lifeboat. As a digitally-native, energy-backed, cryptographically secured, open-source, fairly distributed, scarce commodity, bitcoin's total addressable market is the entirety of the global asset landscape. At current, bitcoin represents just ~0.05% of that ~$900 trillion landscape and is poised to capture incremental market share as the reality of its properties as a reliable store of value becomes better understood. Indeed, the incumbents of the traditional finance world are waking up to the opportunity at hand, as evidenced by the wave of ETF proposals and broader political support for bitcoin.
Onramp was founded to help shepherd institutions and HNWIs to the lifeboat that is bitcoin. We believe bitcoin is the most important asset for institutional investors to understand as they position their portfolios for the next several decades. It is paramount, however, that investors are onboarded to bitcoin in a manner that protects their interests and safeguards them from the custodial pitfalls that have historically plagued the industry. As subsequent waves of bitcoin adoption loom on the horizon, Onramp's goal is to provide our clients with a superior method for gaining exposure to this asset by leveraging the native properties of the protocol to minimize counterparty risk and eliminate single points of failure.
We are here to help you navigate your bitcoin journey.