Onramp Launches a Global Bitcoin Asset Management Platform Built on Multi-Institution Custody

Coincover
19/10/2023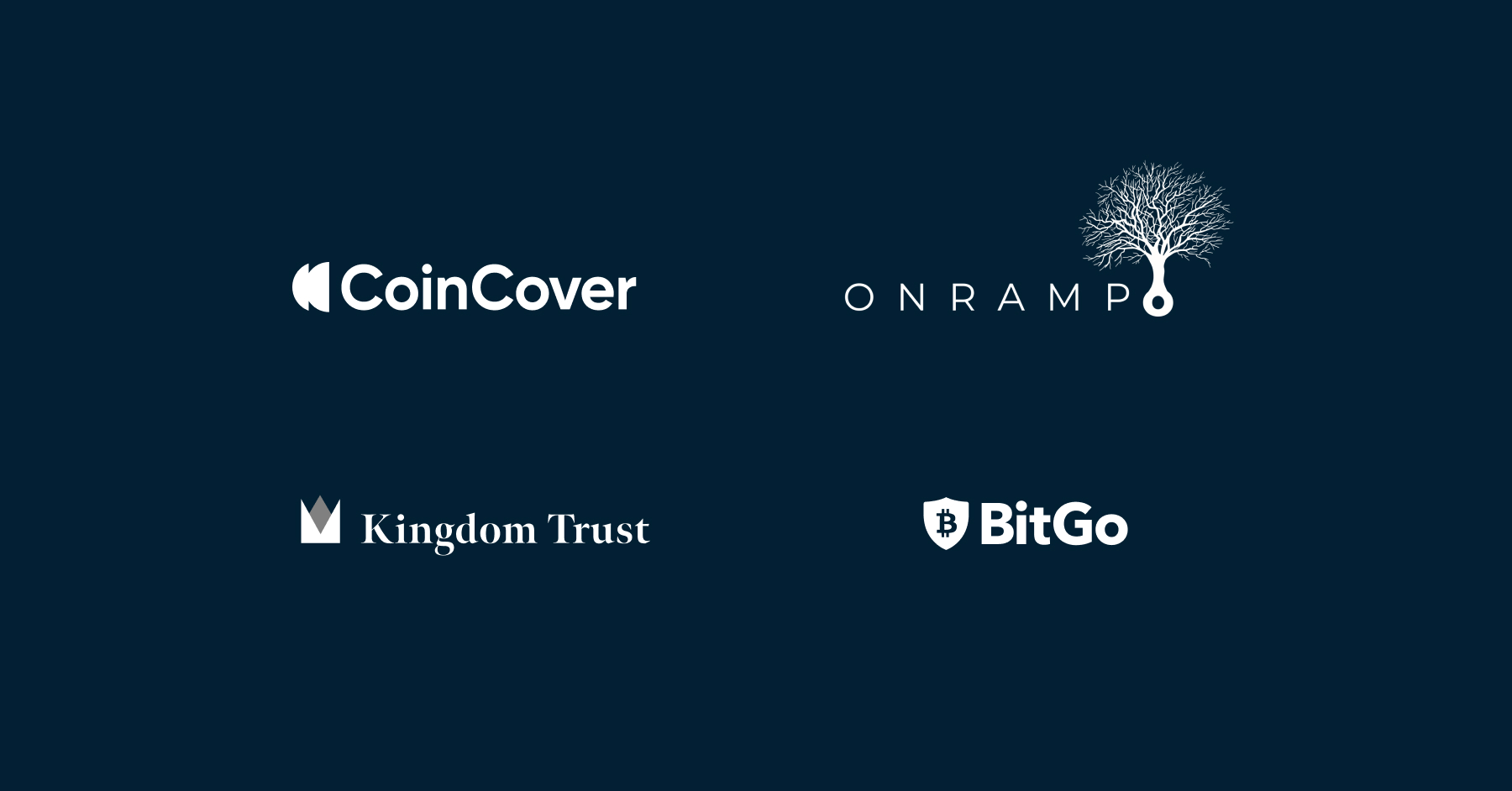 The first multi-institution custody solution set to unlock the trillions in capital that's been waiting on the sidelines
Onramp selected the industry's most reliable partners to deliver its multi-institution custody solution which maximizes security while reducing counterparty risk associated with trusting a single institution
Onramp is pioneering the first-ever implementation of a multisig quorum which leverages BitGo's industry-leading cold storage key signing and authentication processes
Onramp's veteran executive team, recent capital raise and early clients, which include CoinMENA, BitStop, Mash, Kingdom Trust, among others, have the firm positioned to execute on a truly differentiated vision for bitcoin custody


Onramp, a bitcoin asset-management platform, proudly announces its official launch, marking a step-function improvement in bitcoin custody. Onramp's differentiated approach to bitcoin custody, product offerings, and research and education establishes a new industry standard for sophisticated investors.
Introduction
Institutions and individuals face a dilemma when deciding how to gain access to and safely store bitcoin. Self-custody remains an excellent option for some, but inherent technical challenges and security considerations may not satisfy the preferences and requirements of all investors – while existing, centralized custodial options introduce other considerable risks.
Onramp, in partnership with BitGo, Coincover, and Kingdom Trust, bridges this gap by providing institutional allocators, financial intermediaries, and high net worth individuals (HNWIs) with a trust-minimized custodial solution that leverages bitcoin's native properties to eliminate single points of failure.
Early clients of the Onramp custody include Kingdom Trust/Choice IRA, BitStop, CoinMENA, and Mash.
At the heart of these offerings is Onramp's step-function improvement in bitcoin custody.
Onramp Multi-Institution Custody
Onramp's bitcoin custody solution combines the strengths of self-custody with the ease of traditional institutional custody to maximise security while minimising counterparty risk.
Onramp's Multi-Institution Custody leverages bitcoin's battle-tested multisig capabilities to create institutional-grade vaults controlled by three institutional key holders. Each key is held by a different institution with expertise in bitcoin custody and its own independent KYC/AML onboarding and client authentication via the withdrawal process. Two of the three keys are necessary to move the funds in the vault at the direction of the end client.
In this way, Onramp's custody solution delivers best-in-class bitcoin multisig security while removing the single-point-of-failure concerns associated with trusting a single custodian with unilateral control. To build the best multi-institution custody solution possible, Onramp selected the industry's most reliable partners.
"BitGo believes that multi-institution custody can reduce counter party risk and onboard capital on the sidelines to Bitcoin. We're excited to partner with Onramp as they establish best practices for multi-institution custody. We applaud innovation in the custody space, new products and services using mult-sig technology, and we're proud to do our part in enabling them"
Mitch Kochman, Director of Platform Sales, BitGo
"Onramp's Multi-Institution approach to Bitcoin custody is all about maximising security while minimising counterparty risk. This mission resonates deeply at Coincover, where we offer expertise in minimising counterparty risk across the broad spectrum of custodial offerings in the market. With access to products like the Bitcoin Investment Fund, Onramp's multi-institution custody is a brilliant option for businesses and individual investors looking to interact with Bitcoin without worrying about the complexities of private key management, and what can happen if that goes wrong."
Alexander Saleh , Head of Partnerships, Coincover
Partnering with the Best
Not all custodians have the capabilities and core competencies necessary to handle the challenges of digital asset custody, as shown by the recent collapse of centralised custodians.
To build an institutional-grade bitcoin custody solution, Onramp has collaborated with the very best:
Multi-sig infrastructure provider

Onramp's Multi-Institution Custody solution is powered by BitGo, Inc., the leading digital asset infrastructure provider founded and led by the inventor of bitcoin's multi-sig technology, Mike Belshe

Key-holding institutions

BitGo Trust – a Qualified Custodian entity under the BitGo umbrella
Kingdom Trust – the first Qualified Custodian to custody bitcoin
Coincover – the blockchain protection company
Crucially, while Onramp works with the very best in bitcoin custody and multi-sig solutions, the Onramp Multi-Institution Custody solution minimises the trust necessary for each institutional key-holder, as none can unilaterally control the assets.
To date, most institutional allocators have been wary of entrusting a single custodian with bitcoin and unwilling or unable to set up and maintain a bitcoin self-custody solution. The Onramp Multi-Institution Custody solution is a step-function improvement on existing bitcoin custody options that eliminates these custody challenges and unlocks access to bitcoin for institutional capital allocators.
All of Onramp's product offerings are built with this core value proposition at the center.
Onramp Product Offerings
Onramp is a bitcoin asset management platform built with Onramp Multi-Institution Custody at its core. This unique and differentiated custody model allows Onramp to offer a full suite of products and services, tailored to the needs of HNWIs, financial intermediaries, and institutional allocators.
Bitcoin Custody: for new bitcoin holders looking for best execution and custody; or, for existing bitcoin holders to diversify their bitcoin custody methods or transition away from a single-point-of-failure custodian
Bitcoin Fund: for individuals and institutions looking to gain exposure to bitcoin within a traditional investment fund framework (i.e., securitized offering), with the added benefits of Onramp's custody model and the ability to redeem in-kind without triggering a taxable event
Wealth – RIAs: for RIAs looking for a seamless, integrated turnkey asset management program purposefully built with a bitcoin-only focus that offers qualified custody, insurance, research, education, and advisory services
Wealth – Private Clients: for HNWIs looking for first-class private client service to facilitate the acquisition and storage of bitcoin, while helping address the complex, multidimensional challenges of managing significant wealth within the bitcoin ecosystem
The Onramp Advantage
Experience: The Onramp team has diverse experience across the investment management, private wealth, venture capital, technology, and management consulting industries at reputable firms such as Bain & Co, Brown Brothers Harriman, Stifel, Google, and Unchained. Since our initial launch, we've bolstered our executive team with individuals who understand both the worlds of bitcoin and traditional finance and are well equipped to deliver differentiated products and services designed to suit the needs of our investor base. Additionally, we are excited that David Thayer, executive advisor at Blackstone, has joined Onramp's strategic advisory board.
Expertise: Drawing from extensive experience serving HNWIs, family offices, and institutions, Onramp understands that the technical requirements of self-custody deter many investors. Through the experience gained from onboarding thousands of clients to bitcoin and billions of dollars to multisig bitcoin custody, we believe that we've built the ideal custody solution to onboard the masses, combining the strengths of bitcoin's native properties with the advantages of traditional institutional-grade custody.
Bitcoin Education & Advisory: At Onramp, we pride ourselves on being more than just an asset management firm. We're educators. We recognize that investors are all at different stages of their bitcoin journeys, and their ability to make successful long-term investment decisions is a function of strengthening their understanding of this unique asset. That is why we've positioned research and education as the bedrock of our business strategy, aiming to provide investors with a comprehensive set of high-quality bitcoin resources, including written research (Onramp Insights, Dylan LeClair's Weekly Roundups, Jesse Myers's Once-in-a-Species), rich audio and video content (The Last Trade podcast), and analytic tools (Onramp Terminal). We're also excited to announce the upcoming launch of an interactive webinar series that will highlight the fundamental tenets of bitcoin's value proposition.
About Onramp
Onramp is a bitcoin asset management platform that offers multi-institutional custody solutions for individuals and institutions seeking secure and efficient bitcoin ownership. With a powerhouse advisory team and a commitment to bitcoin education, Onramp is dedicated to helping clients navigate the complexities of bitcoin ownership while maximizing security and minimizing counterparty risk. For more information, visit: onrampbitcoin.com.
About Coincover
Blockchain technology is changing everything. However, it brings its own set of unique risks. Coincover exists to ensure everyone is protected, enabling them to innovate freely, without constraints.
Coincover provides a complete blockchain protection solution, addressing the most significant barrier to mainstream adoption: trust. Our protection solutions ensure that access and assets are never lost.
Founded in 2018, Coincover is backed by leading fintech and blockchain investors. Today, we help over 350 of the biggest names in blockchain – including Fireblocks, BitGo, and Ledger – protect themselves and their customers from theft, hacking, and human error.
Visit www.coincover.com for more information.
About BitGo
BitGo provides the most secure and scalable wallet solutions for the digital asset economy, offering regulated custody, staking and trading, and core infrastructure to investors and builders alike.
Founded in 2013, BitGo pioneered the multi-signature wallet and is the first digital asset company to focus exclusively on serving institutional clients. In 2018, it launched BitGo Trust Company, the first qualified custodian purpose-built for storing digital assets and established BitGo New York Trust in 2021. In 2022, BitGo launched institutional-grade DeFi, NFT and web3 services. BitGo secures approximately 20% of all on-chain Bitcoin transactions by value and supports more than 700 digital assets within its platform. BitGo provides the security and operational backbone for more than 1500 institutional clients in 50 countries, including many regulated entities and the world's top cryptocurrency exchanges and platforms. For more information, please visit www.bitgo.com