What will MiCA mean for crypto companies in the EU?

Coincover
2/03/2023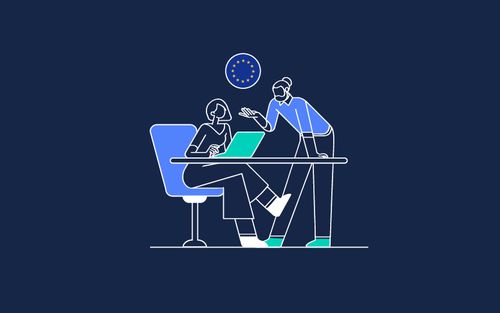 Demands for the introduction of crypto regulation have grown louder over the past few months. Bad actors inside the industry, like FTX, who defrauded their customers of over $370m, and anonymous hackers,
stole over $3 billion in 2022, forcing governments to consider better protection for consumers.

The UK government is currently in the consultation phase of introducing a financial services regulatory regime for cryptoassets, and the US is also considering how to regulate a decentralised market. However, the EU is leading the way by introducing the Regulation on Markets in Crypto-Assets (MiCA), which will likely come into force in 2024.
What are MiCA's aims?
MiCA aims to protect consumers and businesses across the EU by introducing uniform rules that provide regulatory certainty. Other aims of MiCA include:
implementing tighter requirements for the issuance and marketing of cryptoassets
establishing a process for authorising cryptoasset service providers
overseeing the acquisition of cryptoasset service providers
preventing market abuse involving cryptoassets
MiCA separates crypto businesses into two sections - the issuers of coins and crypto asset service providers (CASPs). The definition of CASP is purposely wide and includes businesses that provide custodian and administration services and enterprises that operate crypto trading platforms, such as wallet providers and exchanges.
As well as introducing a stable regulatory framework, the EU wants to make Europe an attractive place for CASPs to set up. MiCA requires issuers of 'asset-referenced tokens' and CASPs working in the EU to have a registered office in a member state. They must also be registered with the relevant local authority to conduct business activities.
Which digital assets are covered by MiCA?
A cryptoasset under MiCA is "a digital representation of value or rights which may be transferred and stored electronically, using distributed ledger technology (DLT) or similar technology". However, there are already regulations in place in the EU for some cryptoassets, for example, e-money, which MiCA will not cover to avoid regulatory overlap.
MiCA covers three categories of cryptoassets:
Asset-referenced tokens

(ART) - backed by several fiat currencies and/or one or more commodities and/or one or more crypto-asset - includes Stablecoins
Electronic money tokens

(EMT) - backed by one fiat currency only
Other cryptoassets which does not constitute an ART or EMT
Stablecoins will also be subject to liquidity requirements where custodians must hold enough money in reserve to prevent them from collapsing. Interestingly, NFTs are not explicitly mentioned in MiCA, perhaps because they come in many different forms, which makes them more challenging to regulate.


What does MiCA mean in practice?
MiCA focuses on improving protection for consumers and investors, particularly safeguarding consumers against fraud and duplicitous issuer or platform practices. There are different regulations for issuers of coins than for CASPs.


Regulations for issuers
Publish a white paper providing customers with technical information and disclosing the potential risks relating to the issuer and the cryptoasset
Any limitations on transferring digital assets must also be disclosed
ART issuers must have a registered office in an EU country
ART and EMT issuers will have to appoint an independent third-party custodian for the reserve assets backing their coins


Regulations for CASPs
CASPs that are authorised for the custody and administration of cryptoassets must ensure assets can't be lost or stolen. If they are, the CASP will be held liable for the loss
Act 'honestly, fairly and professionally', especially concerning upholding security protocols and conflict management.
Protect against market abuse in relation to any transaction or service, in particular, insider dealing and market manipulation


Why is regulation good for the crypto industry?
The introduction of a regulatory framework can only be good for crypto asset service providers and their customers. Recent occurrences in the market have shaken consumer confidence, and trust must be rebuilt if crypto is to become mainstream. Regulation can help stabilise cryptocurrencies and reduce price volatility as consumers understand more about how coins are issued and the associated technical complexities.
Making custodians responsible for any loss or theft of customers' funds means there will be an increased focus on security, and measures will be implemented to protect investor funds. This will make investing in crypto less daunting for more risk-averse investors and will provide a safety net to drive greater investment.
There is a downside to the anonymous, decentralised nature of cryptocurrency trading - it allows money laundering and tax evasion. Many bigger exchanges carry out know-your-customer checks to fend off illegal activities. However, there are still crypto organisations out there letting customers trade anonymously. Regulation would reduce the amount of criminal activity within the crypto industry, improving its reputation and encouraging more investment.
How can Coincover help crypto service providers prepare for MiCA?
The requirement for custodians to ensure assets can't be stolen or lost is exceptionally stringent and will require organisations to prove they have done everything within their power to protect customers' assets. Coincover provides a third-party disaster recovery service to protect against the risk of losing access to crypto funds. If key material held by a custodian is lost, Coincover holds an encrypted backup and can facilitate the recovery of the customer's digital assets.
Coincover's Transaction Protection service protects against fraud and cyber threats by flagging potentially unsafe transactions. We identify anomalies that could be hacker activity and alert customers to suspicious activity. They can then decide whether to allow the transaction.
There are already established regulatory frameworks for traditional finance, so it's not difficult to see what's ahead for the crypto industry. Investing in safeguards for consumers and investors now puts organisations in a better place when regulations are implemented. Talk to one of our team today about how you can get ahead of the regulators and increase your crypto security.